OvernightDog is dedicated to the temporary safe care, feeding and exercise of pets, and the peace of mind of their owners.
Your dog must be older than one year, friendly, house broken, neutered, and no escape artists or diggers please! I never kennel dogs, and only use crates if they come with the dog. We have a large back yard with a doggie door. If you have an older dog who needs peace and quiet that's OK too.
Limit is two or three dogs boarding at one time, and an interview with all of us well before boarding time is necessary.
We are watching mostly smaller dogs now. Ours is a fairly calm environment.
Your dog will be treated as one of the family, and cared for with love. I have experience giving meds., including insulin shots. You will provide food for your dog, as it's not wise to change his/her diet too quickly.
Nancy
Click her photo to read more about our new dog Cassie.
(We have a list of folks who can serve your needs if we can't)
"Every pet deserves the best of our
love and care
during his or her short time with us."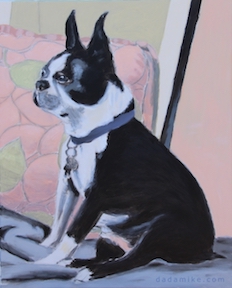 Click on Dolly's photo to view more portraits by Mike Hamilton.
(We have a list of folks who can serve your needs if we can't)

Dog portraits by Mike Hamilton